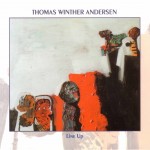 The name Line Up originates from Lennie Tristano`s famous variation of the same name, based on "All Of Me" from 1955. This jazz recording was presumably the first to use multi-track with bass and drums recorded in advance. Tristano`s solo had such a complexity and a natural flow that people suspected that he had sped up the tape before its release. The solo seemed an impossibility. We think the impossible is a decent aim, hence the name of the band.
Composing jazz is as much bringing together the right players as writing the music. This ensemble has a blend that has proved to be a success since our first tour in 1995. I feel very fortunate with these musicians and I give them all the credit for the result. Although I have been writing tunes and arrangements my role as a bandleader is merely the task of organizing. Assembling these five musicians living in three different countries seemed at times like an impossible mission. But their dedication to this project and their serious approach to music inspired me to create possibilities for us to play together.
The band explores a style that originates from "cool jazz" as developed by musical personalities such as Lennie Tristano and Warne Marsh. The musical ideas contain elements such as applying different meters on top of each other, arpeggiated reharmonised chord structures, or melodic lines composed on an existing chord sequence. Before concerts we prepare a set that has a total form, not only an order of miscellaneous tunes, but as one piece of music. Some tunes are played in a reduced combination of the instruments, others are very arranged or we just count off a tempo and start playing. The emphasis is always on improvisation. This studio recording mirrors what we do live on stage.
I hope you enjoy our unconditional passion for the music.
Thomas Winther Andersen, Amsterdam 1998