Oct 15, 2010
Liner notes Tribute To Jochem by Dave Liebman and Billy Hart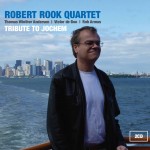 I first heard about maestro Rook, some months ago. Then after continuous raves about his playing, I finally had a chance to hear and interact with him myself at an informal gathering at the house of a great friend and very talented drummer (Mr. Steve Johns).
I found that everything I heard was more than accurate. He possesses great imagination; energy with a contemporary vision. I find all of these attributes to be true also about these recordings. He has obviously chosen similar and compatible sideman to project his vision (which seems to be similar to mine). The saxophonist (Rob Armus) bassist (Thomas Winther Andersen) and percussionist (Victor de Boo) are obviously up to the challenge of a unique musical projection. I personally enjoy these offerings very much as I think you will also.
With music in mind,
sincerely Billy Hart
I was familiar with Robert's music before and think he combines a true sense of tradition with his own concept. As well, he has a good group to support him. A wonderful pianist.
Dave Liebman .
New York 2010
Liner notes Tribute To Jochem 2010