Oct 28, 2006
Liner notes Hymn For Fall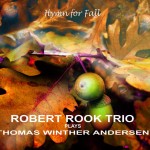 Hymn For Fall
This jazz waltz was intuitively shaped by its melody and has a structure that favours the improviser. The tune is without cryptic concepts but does include a few turns I consider the TW Andersen personal bit. Drummer Dick Verbeeck thrives particularly well, floating through the form. His playing both supports and directs the shape of the soloists in a subtle way
Drained Feelings is a truly emotional ballad written for my wife Henriette. It was recorded as quintet on the CD Out From a Cool Storage. As played by this trio, it has developed into a floating medium tempo. The composition uses combinations of chords that never quite resolve as expected and their traditional functions change from relative relationships to a tonic centre to independent sounds. In romantic music, similar musical effects are described as deceptive. The melody successfully glues these weak harmonic connections together. To my mind, the way Robert treats the song suggests the flow of Herbie Hancock's composition "Dolphin Dance," which we recorded on the live CD Dangerous Cats.
Roving Rook is based on Robert's arrangement of the song "Nefertiti" by Wayne Shorter. It could serve as an example of how jazz often evolves gradually from a reference source into an entirely new composition. Robert's new chord progression changes the character of the melody and better suits this faster tempo than the original would have. After I added a new melody, the transition was complete. Listeners may perceive, however, that there's still some Shorter left. The 16- bar chord sequence has been twisted inside out, with prominent feature space provided for all three players. The title was taken from Schoenberg's book Structural Functions of Harmony. He uses the term "roving harmonies" to characterize chords without a 'home feeling' that suits continuation without confirming a tonality
Insinuation has a Brazilian-inspired character as the trio float into and out of a double-time bossa nova rhythm. The piece is anchored in the note G. Melodic minor, Phrygian and Major scales colour this root in different parts of the composition. The original version was composed with some specific cluster voicing to indicate these modes. Bill Evans was masterful in treating such sounds and has inspired me in numerous ways
Magic Moments is a tribute to the marvelous pianist Steve Kuhn. I heard some fine trio recordings of his even before several other keyboard masters were brought to my attention. I'd written this piece about ten years earlier, after having spent a summer learning the songs from Steve' Life is Magic LP. Robert later suggested that Joe Henderson could be the composer. I considered that a compliment, although I knew little about Henderson's music at the time. I can only say this: although good jazz isn't always new, it's hopefully fresh.
Kitta's Bop Tic takes its name from a quartet I worked regularly with during the Nineties. Kitta was the nickname of the bandleader and saxophonist Kees Smith. We used to play a Latin number called "Soy Califa" by Dexter Gordon. Both Robert and Kitta eventually stretched this song so far in all directions that only its rhythmic feel remained. Eventually, I was inspired to write something a little closer to their improvising style. Although the melody is a happy one, its relation to the bass line creates tension that's unusual for a tune in this style. The mood gradually grows a bit dense and assumes a somewhat ironic twist.
Global Perspective is a 3/4 ballad with a neat melody. The harmonies – based on relationships in thirds – was inspired by Phil Markowitz' composition "Sno' Peas." Whereas that tune uses minor 7th chords moving in thirds, mine uses major 7th chords moving in thirds. Robert is one of just a few musicians able to play this one almost as if it were a familiar standard, treating a challenging and somewhat abstract chord progression with coherence and smoothness. This tune was also recorded with Quartet Sketch in 1998.
Thomas W Andersen